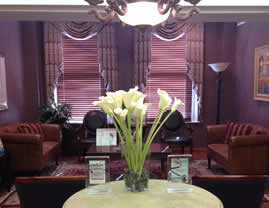 The Breast Reconstruction Center of NYC is spearheaded by board certified plastic surgeon Dr. Keith Blechman who strictly performs aesthetic and reconstructive breast surgery procedures (for both men & women) at our state-of-the-art facility located on Park Avenue South in NYC. Patients from throughout the NYC tri-state area (and the world) seek our best in class surgical practices for Breast Surgery, Breast Reconstruction, Breast Reduction, and Male Breast Reduction | Gynecomastia. The Breast Reconstruction Center of NYC is committed to helping patients (both locally and internationally) achieve their breast surgery goals, with beautiful and natural-looking results. All breast surgeries are individually tailored to suit the patient's needs including working with your doctor or cancer specialists (for breast cancer reconstruction surgery or post mastectomy or lymphedema surgery). Insurance accepted (when applicable) and billed.  <FREE consultations are offered >
Please note – insurance may cover your breast reconstruction surgery: The Women's Health and Cancer Rights Act of 1998 is a federal law requiring any insurance company covering a mastectomy (mastectomies) to also cover all stages of breast reconstruction, including surgery of the unaffected breast in order to produce a symmetrical appearance, as well as coverage for prostheses and treatment of physical complications. This applies to implant-based reconstruction as well as reconstruction using your body's own tissues, regardless of whether these procedures are performed at the time of mastectomy or at a later date. We will work closely with you and your insurance company to make sure you receive the full benefits to which you are entitled.
The Breast Reconstruction Center of NYC works with all insurance carriers (we will contact your insurance company and submit for you). We are happy to work with all insurance companies on these matters. You will enjoy the luxury and benefit of  a top rated concierge environment without the hassle of long hospital waiting room times and paperwork. Most policies reimburse patients for most of the cost of breast reconstruction surgery. Our surgical coordinator will help you with a quote.
Contact the Breast Reconstruction Center of NYC for a Free Consultation
Any doubts I may have had were immediately dispersed after my first appointment with Dr. Blechman. He explained the procedure and what to expect afterwards so clearly. His bedside manner is wonderful and he clearly cares about his patients – he called the day before, and the evening of the surgery, to make sure all was ok. I've never had to wait to see him, and never felt rushed during the appointment. No complaints at all.~ RealSelf
The Breast Reconstruction Center of NYC offers the full spectrum of surgical options for breast reconstruction following a full or partial mastectomy. Dr. Blechman has experience with utilizing your own (autologous) tissue for reconstructing either one or both breasts, if available, as well as the use of breast implants.
Reconstructive Breast Surgery: Dr. Blechman offers (1) Immediate Breast Reconstruction (working with your breast cancer surgeon in the hospital at the time of the cancer removal surgery to perform immediate breast reconstruction; (2) Delayed Breast Reconstruction- breast reconstruction after your breast cancer surgery; and (3) Revisions of breast reconstructions. It is never too late to consider breast reconstruction, or a revision of a previous reconstruction.
Dr. Blechman, a board certified plastic surgeon and accomplished microsurgeon, and founder of The Breast Reconstruction Center of NYC, is also the Director of The New York Center for Lymphedema Surgery and provides surgical options for patients with post-mastectomy lymphedema. 
Post Mastectomy Lymphedema Surgery: Lymphedema is abnormal swelling in the tissues caused by interruption of normal lymphatic flow. Breast cancer treatments such as or radiation therapy can cause lymphedema to develop in the upper extremity. The mechanism is not well understood, but probably results from injury to the lymph nodes in the armpit. 
Cosmetic Breast Surgery (Plastic Surgery):
If you have any questions in regards to breast surgery and would like a complimentary consultation with the board certified NYC Plastic Surgeon, Dr. Keith Blechman, MD please feel free to contact our NYC office for a complimentary consultation or request a consultation online using the eForm on the right.
If you are an out of town patient interested in a complimentary breast surgery consultation please refer to this link for more information: Out of Town Breast Surgery Patient Information.
Breast Reconstruction Center of NYC
461 Park Ave S, #7K
New York, NY 10016
(212) 481-0110